Year 5
Children in Year 5 start each term with a new topic which begins with a Wow Factor experience and ends with a Fantastic Finish. Children will enjoy books throughout each topic, with two that they will become very familiar with. The unit plans set out how subjects are woven throughout the topic.
Curriculum Overview
Autumn - Out Of This World
Sensational Start: National Space Centre Visit/ Ancient Greece Olympics
Fantastic Finish – Moon Buggy Making
Engagement in the topic is ignited by sending a camera into space. Children will visit Leicester Space Centre and take part in the Great Rocket Challenge, working to a budget, they must work together to design, construct and launch their rocket to 'land' on the Moon. Children will learn about volcanoes and earthquakes with a particular geographical study on Southern California. They will study Ancient Greece and celebrate the end of the topic by hosting an Olympics that the Ancient Greeks would be proud of.
Spring- Man Vs Machine
Sensational Start: Science Museum Visit/ Junior STEM Lego Robotics Workshop St Martin De Porres Catholic Church Visit FF – Litter Pick Challenge
A visit to the Science Museum in London will inspire the children to begin to consider the challenges of man versus machine. In science they will learn about the life cycles of a variety of types of animals and consider the changes in humans over their lifetime. In Geography children will consider the impact of humans on the Earth over time and the importance of renewable energy sources. Children will learn about the elements of an electrical system and how they could be used in robotics ending the topic with an exciting workshop.
Summer- Victorious Victorians
Sensational Start: Black Country Living Museum Visit/ Victorian School Day
Fantastic Finish – Victorian Games and Activities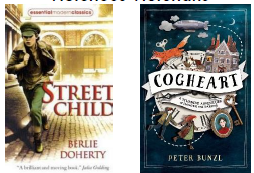 The book 'Street Child' by Berlie Doherty is read as a class to introduce children to life in Victorian London from one child's perspective. The topic starts with a visit to the Black Country Living Museum. In Geography the focus is on the counties of the UK. In design technology they will design and make a Victorian Carousel making use of their prior learning of electronics to add movement and lights. Children will focus on the Victorian Era in History and celebrate the end of the topic with an opportunity to experience what being at school in Victorian times would have been like. We wonder which they will prefer?